Disclaimer: I have never and will never advocate any form of sexual assault of males or females in anything I write. It should go without saying. This post is about the presumption of innocence for all people and the way it has translated to things as ubiquitous as public transportation.


Over a year ago, when I began this weblog, I uploaded a video from Canadian TV about a specific instance where a Taxicab driver was accused of aggravated sexual assault by two young women after they refused to pay a $13 fare. I wrote an angry response to the nature of the crime and how close the driver came to ultimate ruin had it not been for his dash-cam. Since then thanks to some friendly followers and r(eddit)/mensrights the video was seen by several people which is outstanding. However, what I didn't want to express was that this was an isolated incident by any means.

I have personal ties to Canada so  I keep up with current news. Since that incident SEVERAL of the same kind of thing has happened. Young women accusing drivers (often immigrants) of rape, assault, and frequently reverting to Violence on the cabbies.

In St. John's, Nfld. the number of such cases got so bad that taxi's stopped picking up women altogether. A single accusation can cause one to lose their job, children, and in the case of immigrants lead to deportation.

"It's unfortunate but today, young single females or even two females in the car… bad news. Especially if they're intoxicated…You touched me or you did this or that or you made a proposition" — Doug McCarthy, Co-Op Taxi in St. John's

Even more telling of the rapid shift cabbies have observed, McCarthy went on to explain that in times past the rule of thumb was to "pick up young girls first, take them home, pick up couples seconds and last, pick up the guys." Males came last before these incidences, but now it has reversed.

In 2011, a series of robberies occurred where patrons would not only refuse to pay fares, they would threaten to go to the authorities with allegations of sexual assault if the driver did not GIVE them money. In the same style as the case where cabbie Mohammed Asif was beaten and robbed by Natalie Woods and Nicola Cliberon (whose 12 month jail-time conviction was shortened to a 3-month curfew), the prevalence of such accusations has lead to many companies worldwide having to install closed circuit cameras in random vehicles at great expense. The largest taxicab company in Ireland (Derry Taxis) having dealt with repeated false allegations installed cameras in every vehicle for the protection of the drivers. It has come to that.

Whether is was…
Gemma Hasson (25) who accused a cabbie of attempted rape and sexual assault to avoid paying a fare. Later admitted it was a lie, claiming had been drinking.

Rosie Waggett (18) who was sentenced in accusing a husband and father of three of raping her to avoid paying her fare. She also had two acquaintances beat him inside his cab to escape without paying.

Joanne Rye (18) who kept up her lie for over 20-months before admitting that she had never been shot with a pellet gun, dragged into an alley and raped by her devout Muslim cab driver. She later admitted it was to conceal a pregnancy that did not belong to her then boyfriend only when closed-circuit video disproved her story.

Shabnam Masood (23) who was given a FREE RIDE after telling her driver that her boyfriend had abused her. The driver then took her to a safe have

Charlene Beal (27) and Lisa McGuire (26) caused £750 damage to their driver's car before accusing him of attempting to rape them. In court they claimed that they were drunk.

A Bolton minor (17) who was unnamed accused accused a 35 year-old driver who WAS named (but I will not) of raping her after (get this) he gave her a free ride home after seeing she had no money and taking pity on her. The minor wasted an estimated 133hrs of police time,

…or the plethora of other instances giving the presumption of guilt to the accused is immoral, unconstitutional, and unfair. Additionally, the anonymity of the accused should be maintained in the same respect as that of the accuser.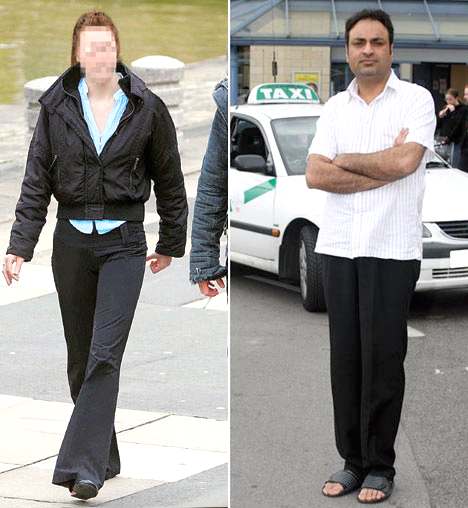 If the cabbie was a woman and a man accused the lady of rape. In the same fashion, her innocence should be presumed. Particularly in the UK where there is compensation for victims who have been subject to any form of violence to incentivize such things further is a very slippery slope.

Maybe the Women-only taxis I made fun of were on to something. Wait. No.